Perhaps I should say Tony's first beachcombing beach crafts efforts, as it is Tony that has so far made all the beachy items we have. I do wish to try my hand making beach crafts items too, but so far my input is helping to find interesting items on the beach, also (we both enjoy photography) taking photographs at the beach or of the items we find or of the products Tony makes, giving Tony a few ideas of what I'd like him to make, and marketing the products he makes or items we have found.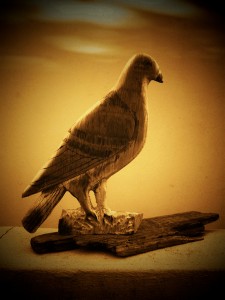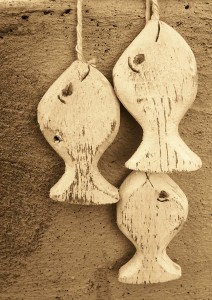 Although we've only recently (December 2012) taken a much much greater interest in beachcombing and beachcombing beach crafts (and these recent beach crafts are the first beachcombing beach crafts efforts I'd like to speak about here) Tony has also made other items considered to be "beachy" a while ago too (more than two or three years ago), two of which are displayed above, and two of which are displayed below: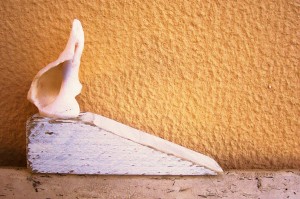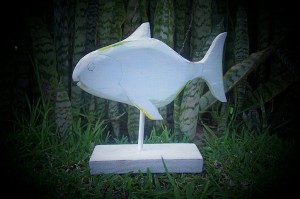 The more recent beach crafts Tony has made:
The first recent item that Tony made was this cute little ornament, shown below, that could be used outside as a garden ornament or displayed indoors. It was made from a a piece of white sea glass we found on the East London beachfront, a small piece of driftwood found elsewhere some time back, and wire from the inside of part of a discarded piece of electrical cable:
Tony then went on to make three more of these cute little garden ornaments – we call these sort of garden ornaments fantasie chrystles and you can order similar ones on our beachhousedecorideas.co.za site: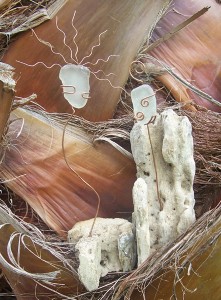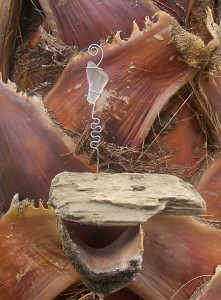 Then Tony made a pair of earrings using white sea glass and wire we had bought at Checkers – we paid about R30 for 80 metres of 0.7 mm thick binding wire. We removed the part of the earrings that goes through one's pierced ears from an old pair of earrings of mine, and Tony added the new look to them:
Tony has since made a few more pairs of earrings and made the part that goes through one's pierced ears too, but this is rough and we are soon going to buy the parts that go through one's pierced ears and use those on these earrings instead: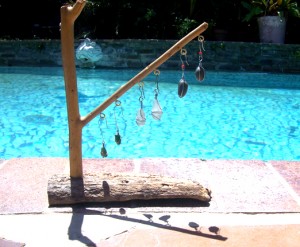 Then it was my idea for Tony to create some sort of thing to hang one's beachy earrings on,
so he made these two driftwood ornaments, shown here with beachy earrings hanging on them
– this driftwood ornament earring hanging item idea still needs some work, to improve the matching up of colours and materials used, and improving the strength of the standing version one by using a thicker and stronger piece of branched driftwood for the part of the driftwood ornament from which the earrings hang, but we'll get there!
I wouldn't say these are beach house decor items as they are more for one's bathroom or bedroom dresser or bedroom shelf,

and although they look a bit like a beach house decor item, are more useful than decorative, so we'll be selling these sort of ornaments on this site rather than on our beachhousedecorideas.co.za site (we like to keep the two shops separate with no overlapping of products.)
We're having great fun with our new hobby
and are excited that something we love doing (beachcombing, making and marketing beach crafts, photographing beaches, photographing the things we see on beaches, and photographing our beach finds and crafts, and just being "beachy") can make us some money.
© copyright Teresa Schultz 2013