Why not make money from your beach crafts, and why not make that money at a flea market or craft market? It stands to reason that if you're happy enough to proudly display your beach house decor crafts in your home, or to give them away as greatly appreciated gifts, that your beach crafts are good enough to sell too.
The same goes for beach crafts that you've made as accessories or that you wear, like clothing, bags, earrings, and necklaces. If you're proud to use or wear your beach crafts, or if your family and friends ooh and aah when you give them your beach crafts as gifts, then your beach crafts are very likely good enough to sell at a flea market or craft market too.
Why sell your beach crafts at a flea market? The advantages of selling your beach craft items at a flea market or craft market:
1)
you don't need a shop (unless you want a shop as well)
2)
you don't need an online store or a website (unless you want an online store or a website as well)
3)
you don't have to do much or any marketing of your little (or eventually big) beach crafts business (or marketing of your beach crafts online store or website) since your marketing happens automatically when people walk past your flea market or craft market stand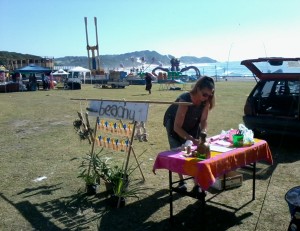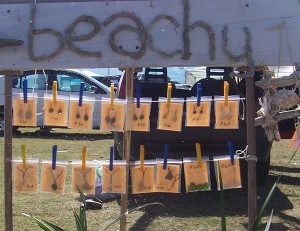 4)
you can start selling at flea markets very cheaply; you don't necessarily need a gazebo and fancy or handy display areas when you first start out: a simple pretty cloth, blanket or sheet on the floor or grass will do as your presentation area, or a fold up picnic table or two covered in a pretty tablecloth, sarong, or beach towel, or use your creative beachy skills to make a homemade sign on which you can hang some of your smaller beach craft items
There are also a few disadvantages of trying to sell your beach crafts at a flea market, but even when the disadvantages are quite bad, the advantages generally outweigh the disadvantages:
1)
If you don't have a bakkie, kombi or mini-van, your car needs to have quite a large storage area on the back seats, or your car needs to have a large boot – of course the size of your car's storage space doesn't need to be all that large if the beach crafts you specialise in making are not very big, as is the case with beach craft jewellery items
2)
The weather: if you don't have a gazebo at an outdoor flea market or craft market, sun protection is a must in the form of a sun hat and sunblock lotion – a large beach umbrella would also provide some shade on a hot day, and may add to the beachy look of your stand; if it's windy or gets windy during the day, you need to have weights of some sort to hold down some of your lighter items or the tablecloth or blanket that your beach crafts are displayed on – some interesting stones you found on the beach should do the trick; if it's raining, it's pretty pointless that the craft market goes ahead that day, or if it starts raining during the day you need to be organized in advance with something you can use to quickly cover your beach crafts before and while you pack them all away
3)
travel time and packing and unpacking time
4)
security – a second person is needed (or try to become friendly with the owner of the stand next to you) for when you need to go to the loo or when you need to leave your stand for some other reason like needing to go buy some lunch (pack your own lunch and cold drinks, rather)
Tips:
Don't give up if you make nothing or next to nothing on your first day out at a flea market – although this can be incredibly depressing when you had such high hopes, also realise that it may have just been a bad time of the month, or that people need to get used to seeing your stand at the flea market a few times before they start buying any of your beach craft items – or perhaps you even need to try a different flea market, in another area of your town. Also, be sure of your prices: what are other people charging for similar items and are they making many sales?
© copyright Teresa Schultz 2013