Ah, to body surf! I'm a little afraid of the ocean these days. I worry about tidal waves and sharks, and being sucked deep into the ocean, beyond the breakers, by a backwash current.
As a kid, though, I loved to swim in the ocean (especially at Nahoon beach in East London) and body surf. Yeah!
I would use a boogie board from time to time, but it was a drag to have one with me in the waves, if I decided I just felt like swimming and ducking under waves or just hanging about out there splashing about with my friends. If I felt like doing this and was stuck with a boogie board, I'd have to carry it aaaaalllll the way up to where my beach towel and beach bag were waiting for me on the sand, where they were protecting my suntan lotion and sunglasses.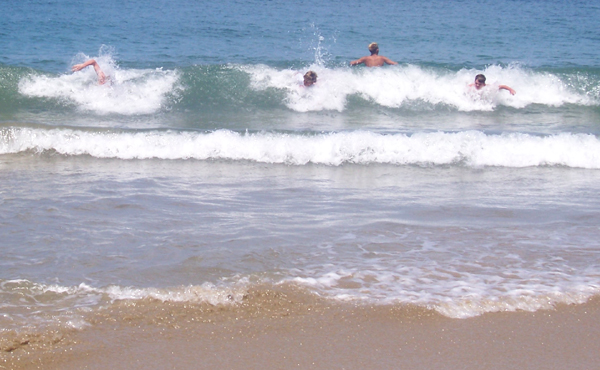 So, it was often that I was splashing about in the waves without a boogie board,
but then I'd want to catch a wave and didn't have my board with me!
I'd wait for a gorgeous swell, and then just before it got to me, I'd turn and face the beach and swim like mad.
Now, I'm not saying this is just before the top of the swell got to me (that I would start to swim like mad), but just before the bottom of the swell would get to me.
I'd try and judge if the wave was about to break, and sometimes it was a mad scramble forward if it looked like the wave was going to break before it got to me.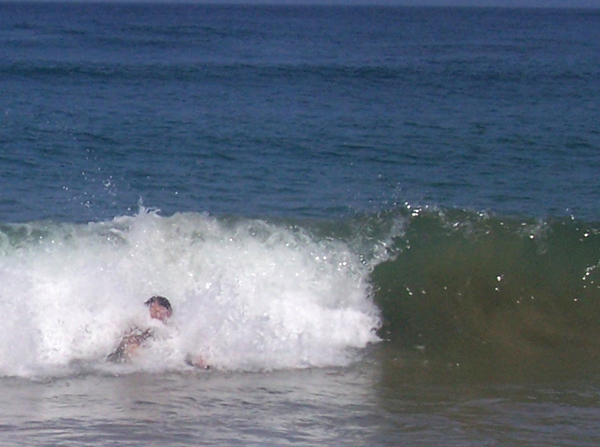 And then I would feel myself lift up on that swell,
and I would feel the pressure of that wave (approaching the sandy beach) pushing me.
I might have had time to put in the effort of a few more swimming strokes to help that wave help push me, and then I would be flying near the top of that swell – awesome!
I would immediately put my arms back and to my side, not keep them in front,
and as that wave broke, I would suddenly speed up and go down,
and fly forward.
A rush! A wave! A beach. A sunny day. Sand, salt and water everywhere.
Body surfing – yeah!
And over all too soon, but turn back into the ocean, skipping and rushing, and trying to get deep enough before the next "perfect wave" approached.
© copyright Teresa Schultz 31 December 2012