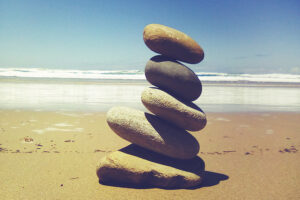 The image here is of a beach rock tower that is available on Society 6 as a POD – Print on Demand – item.
This particular beach rock tower was built on the beach at Kei Mouth. I wanted a particular aesthetic for this image, which I achieved using various filters and techniques to give it a slightly washed out look, similar to the effect found on photo prints from the 1970's.
The colours are definitely there, but are subdued. Light is emphasized on the rock faces that are directly facing the sun, creating the over-exposed facets on rocks.
Building beach Rock Towers are – for me – a really pleasing and relaxing pastime while at the beach.
I find it challenging to find the correct mix of rocks for my beach rock towers, also known as beach Zen towers.
I will always look for a flattish base rock. The other 4 or 6 rocks can be any shape – I prefer rounded shapes, as they are usually more challenging to balance. I also look for at least one rock that is a different colour and/or texture. This is to provide contrast, and as a confirmation that nothing in life, or nature, is ever flawless or perfect.
I carry this philosophy through to most of my work.
I could use flat rocks, and spend less time on the Zen towers, but that detracts from the objective – to spend time exercising dexterity and a degree of concentration.
Once the Zen beach rock tower is built, it can be photographed – this provides another challenge. This particular rock tower was built on the waterline.
Specific photos wanted were a few including the water lapping around the base. I got a few of those. I also had the beach rock tower collapse from the water washing around it, and had to re-build it.
Once the beach Zen tower is photographed, it is time to sit back, and admire it. Consume it visually. Relive the construction. Admire the shape and form created by a bunch of random rocks that were just lying around on the beach. Marvel at nature – that provides us with the physical assets, the gravity, the ability to balance random objects, and the ability to immerse oneself in the making and relishing of Nature's bounty.
The original print-ready High Resolution image is available for purchase. The file – delivered via download – can be used as you wish (other than to re-sell). See MORE INFORMATION below the form.
=== WHAT YOU WILL GET ===
1 of DIGITAL FILE ONLY
= Read Full Description Below Carefully =
The File is a High Resolution JPEG Digital File – Which results in crisp clean prints and can be scaled down and printed at almost any size without losing quality.
File info:
JPEG Format
14.48megabytes
10000px x 10000 px
300dpi
Top ways to print your image:
1. Print at home
2. Load your file to a USB, and take it to your local printer, and have it printed on a product of your choice
3. Use an online service to print the design on almost anything you can imagine!
WHERE TO DOWNLOAD DIGITAL FILES:
After your Confirmation of Payment, your Digital Files will be available to download immediately.
A download link will be sent to you.
= PLEASE NOTE =
This is an INSTANT DIGITAL DOWNLOAD and no physical print will be mailed to you – However you can print it out as many times as you like!
BORING LEGAL STUFF
Your purchase License is for Personal Use Only – Print may be used for personal use or printed as a gift but may not be sold or shared
Colours may differ slightly due to various screen and printing settings
Unfortunately there are no refunds on Instant Digital Downloads however, on the rare occasion that a customer is not completely satisfied, simply email us and we will do our best to make you a satisfied customer!
By purchasing this print you agree to the above terms and conditions
====================================================
Below is a list of possible ideas for you to look at, while deciding where else to use your new image.
Remember – you can make as many prints as you like! 🙂
Image Usage ideas:
Art Prints
Framed Art Prints
Canvas Prints
Framed Canvas Prints
Tapestries
Posters
Floating Acrylic Prints
Metal Prints
Wall Hangings
Wood Wall Art
Mini Art Prints
Framed Mini Art Prints
Tapestries
Throw Pillows
Rectangular Pillows
Floor Pillows
Throw Blankets
Wall Clocks
Rugs
Area Rugs
Wallpaper (patterned)
Wall Murals
Credenzas
Bar Stools
Counter Stools
Side Tables
Coffee Tables
Comforters
Duvet Covers
Pillow Shams
Shower Curtains
Bath Mats
Hand & Bath Towels
Coffee Mugs
Travel Mugs
Tablecloths
Table Runners
Placemats
Coasters
Water Bottles
Wine Chillers
Cutting Boards
Serving Trays
Desk Mats
Stickers
Notebooks
Acrylic Trays
Acrylic Boxes
Pencil Cases
Stationery Cards
Greeting Cards
iPhone Cases
Android Cases
iPhone Wallet Cases
Android Wallet Cases
iPhone Card Cases
Android Card Cases
iPad Folio Cases
Laptop Sleeves
Laptop Skins
T-Shirts
Hoodies
Long Sleeve Shirts
Tank Tops
Face Masks
Tote Bags
Carry-All Pouches
Makeup Bags
Fanny Packs
Outdoor Rugs
Yoga Mats
Yoga Towels
Water Bottles
Travel Mugs
Outdoor Throw Pillows
Welcome Mats
Wine Chillers
Can Coolers
Beach Towels
Picnic Blankets
Sling Chairs
Folding Stools
Floor Cushions
Sun Shades